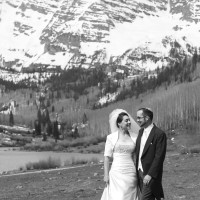 Nate Bankirer & Sarah Shulman
(Sarah and Nate's story appeared in "New Jewish Dating App Keeps the Campfire Burning" by Oren Peleg, Jewish Journal)
Sarah and Nate met and fell in love at Ramah Outdoor Adventure in the Colorado Rockies in the summer of 2010. Since then they have been inseparable, sharing a love for hiking, biking, writing poetry, and teaching.
Sarah is currently a Rabbinical student at American Jewish University in Los Angeles and will soon be taking the position as Director of the new Camp Ramah in Northern California (Ramah NorCal), opening within the next two years.
Nate proposed to Sarah on the Jewish new year, Rosh Hashanah, amidst owls and pelicans in Cherry Creek State Park. They were married on June 5, 2011 by Rabbi Eliav Bock.