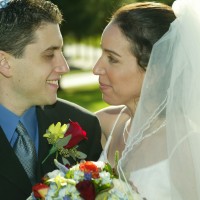 David Ross & Lauren Schmidt Ross
(David and Lauren's story appeared in "A Ramah Union," by Matt Rosenbaum, Editorial Intern, Jewish Journal of Greater Los Angeles and  in "New Jewish Dating App Keeps the Campfire Burning" by Omer Peleg, Jewish Journal)
David Ross and Lauren Schmidt met for the first time in Los Angeles in May 2000. Or at least, the couple is pretty sure that was the first time. Raised in Palos Verdes Estates, David was an active member of United Synagogue Youth since his early childhood, and spent every summer at Camp Ramah in Ojai, first as a camper and then as a staff member. Little did he know that his future wife slept only a few bunks away during those summers at Ramah. Lauren grew up in Austin, Texas, and was involved with Young Judaea and various Jewish summer camps.
In the summers of 1992 and 1993, Lauren traveled west to work as a counselor at Camp Ramah. Despite spending summers at the same camp and sharing a passion for music, Lauren and David knew that they must have interacted as staff together at camp but did not remember meeting each other when their paths crossed again through a mutual friend in 2000. "It's almost impossible that we never even said 'Hello' through two entire summers at camp," David said. "But we really didn't remember each other at all." Although they sensed a connection, Lauren still lived in Austin, and 2,000 miles was enough to dissuade David from pursuing a relationship. "I remember telling my friends, 'Too bad she lives in Texas,'" David said." I thought we really hit it off, so the distance was pretty disappointing."
David's disappointment soon turned to excitement when he traveled to Texas with his band, Milot Ha'Nefesh, to open for musician David Broza at Young Judaea's 50th anniversary celebration in April 2002. Lauren watched, then met David and his band. Even though they barely remembered each other, sparks flew and, three weeks later, David was in Austin meeting Lauren's family. After a 10-month long-distance relationship, Lauren packed her bags and moved to Los Angeles in February 2003. Only two months after her move, Lauren found more than matzah in the afikoman bag on the second night of Passover: David had hidden an engagement ring among the broken crumbs. "Then I got down on one knee, and she said yes," David said. "It worked out well. We had been joking about wedding lists after we were together for three weeks, so it didn't really surprise either of us."
The couple currently lives in the Pico-Robertson area and is strongly involved in the Jewish community. Lauren, a graduate of the University of Kansas with a master's degree in social work from the University of Texas, is an LCSW and school therapist in Santa Monica. David, who graduated from UC Berkeley with a bachelor's degree in music composition, works as a theater and music director at Temple Emanuel in Beverly Hills.
They were married on Nov. 2, 2003, at Camp Ramah.
"It's a little bit like 'When Harry Met Sally,'" David said. "Their paths had crossed several times over 10 years, but nothing happened. The same was true with us — it just proves to us that it was meant to be."
In November 2014, David and Lauren were featured in an article titled, "Summer Camp Love," illustrating Camp Ramah as a 'foremost source of identity, spirituality, and commitment to Judaism."