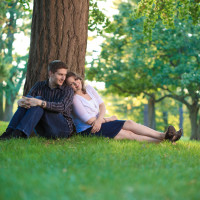 We did not actually meet on a Ramah program, we met on Nativ in 2007 after our JC summer. But Reena had been a Poconos camper for many years and had just finished a summer working there, while Oren had done the same at Berkshires.
We did not attend a Ramah program together prior to meeting, but we are sure it strengthened our eventual connection and caused us to have many mutual friends.
We eventually worked together at Berkshires together in 2009 and 2010.