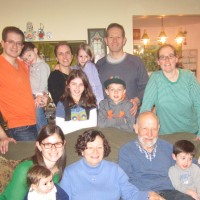 Rabbi Mayer Rabinowitz & Renah Rabinowitz
My grandchildren, Ramah Nyack campers Maya, Coby, and Liana Rabinowitz, are only 11, 9, and 5 years old, but Camp Ramah has been in their blood for almost 60 years! My husband, Rabbi Mayer Rabinowitz, began as a camper at Ramah in Connecticut (now New England) in 1954 and went on to work on staff there until 1960. I met him there in 1959, and also worked on staff until 1960. Then, we both helped Rabbi Jerome Abrams open Camp Ramah in Nyack as an overnight camp in 1961, and eventually moved with him to open Camp Ramah in the Berkshires three years later.
Maya, Coby, and Liana's father Adi Rabinowitz and their aunts – Dalya and Ayelet – are all Nyack and Ramah Berkshires alumni. But there's more! Their great-grandmother Devorah Rabinowitz, z"l, was the first Business Manager of Ramah Nyack in 1961, and their great uncle, Dr. M. Bernard Resnikoff, served as Director of the National Ramah Commission from 1956- 1967, and spent several summers in residence at Ramah Nyack.
Ramah Nyack has always played a special role in our family's life. It was straight from Ramah Nyack that Devorah Rabinowitz, z"l, and her husband Rabbi Simcha Rabinowitz made aliyah in 1961, and it was where Mayer and I began dating. It is also the camp to which we returned in 1972, to serve on the staff of the first Ramah Day Camp.
Mayer recalls that in 1961, the Nyack campus was woefully inadequate for the number of campers and the type of program we had. But necessity was the mother of invention. With only one or two ball fields, and little room for conventional camp activities, we created new ones: bishul (cooking and baking), as a regular activity, was born that summer as a way to accommodate one bunk each period! And stoop-ball became a regular part of the sports program! The challenges were many, but so were the creative solutions we had to find. The only reason we left Ramah Nyack was to help Rabbi Jerome Abrams open Ramah in the Berkshires in 1964.
Then, in 1972, Mayer and I returned to Nyack, which had, by then, become the first Ramah Day Camp. It was at Nyack, as "staff kids," that our children were first introduced to the magic of Ramah. Under the inspiring directorship of Rabbi Albert Thaler, we helped adapt the spirit and quality of the overnight Ramah camps to serve the needs of younger children. Many of the most popular programs that are still in place today – the Zimriyah, Festivale, etc., were conceived and designed in those early years. And over the years, our grandchildren have flourished at Nyack, as Amy Skopp Cooper has continued to grow and nurture the camp program, inspiring the campers and staff who are fortunate enough to spend their summers in her charge.
As ardent camp supporters, we feel that Camp Ramah gives kids the opportunity to experience the joys of Jewish living–Jewish observance, study, Israeli culture, artistic exploration, and personal growth–in a supportive, pluralistic and loving environment. What could be better than giving kids this kind of foundation for future Jewish living?
Having "graduated" from Ramah Nyack Day Camp, our three children attended Ramah Berkshires for many years and our two daughters served on Sports Staff, working with Rabbi Paul Resnick and his administration. Yes, Ramah IS in our blood.
Our children agree. When our son Adi is asked why he and his wife, Heather, decided to send Maya and Coby to Ramah, Adi said, "Nothing else was a consideration. It's what we do in our family. We've never outgrown our excitement and love for Camp Ramah."
We are thrilled that our children want their own kids to have the experience as well. Perhaps some of our grandchildren will meet their basherts at Camp Ramah, as we – and one of our daughters – did! Our son-in-law, Jeff Teitelbaum, has been through the "Ramah Routine" and is now an active member of the Board of Camp Ramah in the Berkshires.