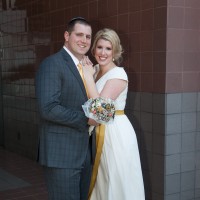 Max Gorney & Jaclyn Greenberg Gorney
(Max and Jaclyn's story appeared in "Summer Camp, Meet Online Dating" by Hannah Dreyfus, Jewish Week)
As the tallest poeple in our edah, our friends forced us to hang out (aka sneak out to the gaga court). We "camp dated" in Solelim 1998 and took a great photo at his bar mitzvah a few months later, Jaclyn sporting overalls and braces, Max rockin' the muscle tee.
After losing touch, we reconnected and had our first date in January 2010.
After dating for two years, Max proposed where we had our first date and almost exactly a year later, on January 20, 2013, we married. As the save-the-date card, we used the photo from his bar mitzvah.