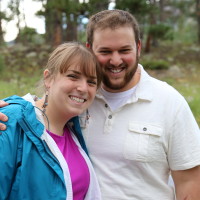 Matt Levitt & Sara Geboff Levitt
While walking back from a Hillel board meeting at Indiana University, Matt noticed Sara sitting outside on her porch reading a book about Israel. Matt knew the IU Hillel board was looking for a new Israel chair and so he struck up a conversation.
Shortly after that initial conversation, it was evident Matt and Sara shared many things in common including a powerful connection to the Jewish community inspired by Ramah, USY, and love of Israel.
Sara began working for Ramah Darom in 2006 as a counselor and continued through college. In 2010, during Matt's first summer with Ramah in the Rockies, Sara was a Rosh Edah at Ramah Darom.
Matt and Sara were married in December 2012, shortly after Matt joined the year-round team with Ramah in the Rockies as the Program Director, having worked as a rock climbing instructor, counselor, and logistics coordinator during the previous two summers.
For the past three summers Matt and Sara have been able to spend their summers at Ramah in the Rockies together, where in addition to Matt's role as Program Director and now Assistant Director, Sara too has been able to work as a Rosh Edah, Rosh Shira, and Summer Program Director for Ramah in the Rockies.
While Matt and Sara did not meet at Ramah, the inspiring community found within Ramah has helped the couple deepen their appreciation for Jewish community and the great outdoors.
Matt and Sara live in Denver, Colorado with their two year old dog, Watford, who also spends his summer at Ramah in the Rockies comforting homesick campers and roaming the great outdoors.