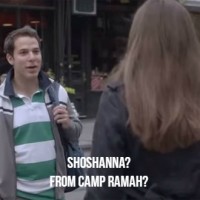 This New Dating Site Fulfills Every Camp Person's Lifelong Dream
With the official launch of RamahDate on Friday, May 15, the press continues to show us some love! Here's an excerpt from an article featured on Mic.com, written by Ramah Poconos alumna, Ellie Krupnick:
If there's anything that fosters romantic connection, it's camp. As kids, it's time stolen behind bunks, adrenaline-fueled Capture the Flag games and "instructional" swim classes that turn into something else entirely. Once you're counselors, the flirtations grow up into Wet Hot American Summer-esque flings, conveniently guaranteed to have a clean beginning and end due to the confined space and time of a single summer.

Except, of course, when those flings turn into lifelong loves. For Camp Ramah, an online dating network seems like an inevitable step in a decades-long tradition: Ramah, with its eight overnight camps across North America, boasts over 400 marriages on its alumni network website, and estimates that there have been over 700 total in its 68-year history, a Ramah rep told Mic.
Click here to read the full article.