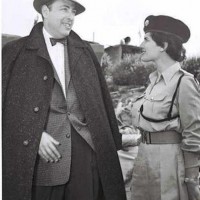 Steve North: "The best Herman Wouk story (almost) no one has read"
In an homage to prolific writer Herman Wouk for his 100th birthday, Camp Ramah in New England alumnus, Steve North, writes about the Wouk story "almost no one has ever read", via a postcard delivered to Palmer, MA. Here's a snippet of North's story:
It was a hot July day in 1969, and everyone at Camp Ramah in Palmer, Massachusetts had stayed up late the night before to watch history being made. We had seen Neil Armstrong take that one small step for a man, one giant leap for mankind, on a tiny black-and-white TV with rabbit ears antenna, perched on a wooden chair on the porch of our dining hall.

But now we were back to our normal routine, and I was assigned to pick up the day's mail for the three bunks of boys in my division. During my walk back from the camp post office across the field, I started sifting through the various items, looking to see if I'd received anything that day, and one postcard caught my eye. Dated July 16, it was from Herman Wouk to his son Joey, who was in the next bunk over from me.
Want to read on? Click here to read the rest of this fascinating story, and of course, Yom Huledet Sameach, Mr. Wouk!