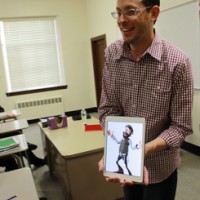 Saul Blinkoff: Filmmaker With Philly Roots Animates Jewish Ideas
Have you ever looked for "Easter Eggs", or hidden messages, in Disney or Pixar films? Camp Ramah in the Poconos alumnus and director/animator Saul Blinkoff is working to make sure that some of these "eggs" have Jewish meaning. In his directorial debut of Disney's Winnie the Pooh: Springtime with Roo, Blinkoff said:
When I looked at Winnie the Pooh's house, which is made of a tree, I noticed that it was missing something," he said. "So I sharpened the pencil and I drew a mezuzah on his door, and in my head, I called him not Winnie-the-Pooh, but Winnie-the-Jew."
Utilizing film and animation as a way to connect Jewish young adults to their identities, Blinkoff is hoping to help young people "find where they fit in" as Jewish adults.
Read the full article here to learn more about Saul's work.