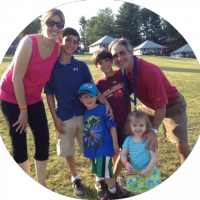 When my oldest son, Billy, was six months old, my husband, Adam, and I brought him to Ramah Poconos on visiting day. I was thrilled! I started camp when I was 12 and was fortunate to go for 11 memorable summers including Ramah Seminar, and four summers as a counselor. It was great to be back. As we walked around camp carrying Billy on our backpack holder, I announced to Adam (who had never gone to overnight camp) that someday, this was where Billy, our six-month-old would go. His home away from home. We were visiting my sister, Lisa, who was a counselor, and anyone who has ever observed Lisa at camp with her best friends would say, "I'll have what she's having." So, Adam agreed.
"Someday" got here fast, and our son grew up. Adam wondered why we were sending our son away for four weeks when we were going to miss him so much. My answer was because it is the very best gift we could give him. It is a gift that lasts more than four weeks, or eight weeks; it is a gift that lasts throughout the school year and it lasts long term. Because Ramah is not a place where I made summer friends; it is a place where I made lifelong friends. To this day, my camp friends are amongst my best friends.
Twenty-eight years after I started my first summer, I still talk and get together with my camp friends all the time, some as often as once a week when we have a playdate with our toddlers, and some once a year when a group of women from our edah excitedly drive and fly in to spend the weekend together. I am incredibly grateful.
I am also grateful to my parents because Ramah was one of the greatest gifts they ever gave me. Having my three younger siblings with me at camp was something that I was fortunate to have. Whether it was visiting their bunks, or spending time with them on Shabbat, we knew that we had each other. They knew my friends really well, and I knew theirs. And now that I have four children of my own, two of which will be at Ramah Poconos, and one at Ramah Day Camp, I am so excited that my children can share in their experience together.
And, as much fun as it is to share my own memories–my children know all about the summer that I was captain of Maccabiah–it is that much better to watch my son create his own memories. I love hearing about bunk activities, playing soccer on boys campus, and seeing him with his friends. And, at the end of the summer, I don't feel insulted when he comes home feeling sad that camp is over. I get it.
I look forward to this visiting day, 12 years from the time we brought him as a baby, where our family will be walking around together. But this time, it will be our son showing us around. And as much as things may have changed at camp–there are new basketball and tennis courts, a new baseball field, hockey rink, and new buildings–when I asked Billy to tell me his favorite thing about camp, without hesitation he said, "being with my friends." Some things stay the same.