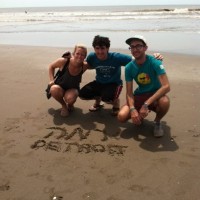 First Year of Metro Detroit Fellows
This year we have three stellar Ramah alumni working full time in the Detroit area as part of the Ramah Service Corps. Meet Hillel Buechler, Eli Jacober, and Darrien Sherman!
Hillel hails from the Empire State of New York. He spent many summers at Camp Ramah in the Berkshires as a chanich, madrich, and most recently, Rosh Edah. After graduating from Brandeis University, Hillel spent the year studying at the Pardes Institute of Jewish Studies in Jerusalem. In his spare time, Hillel enjoys learning the names of the major crossroads in the Metro Detroit area. Contact Hillel at hillel@campramah.org.
Eli grew up in Oakland, California, where he worked as a baker and a kindergarten teacher. Eli has spent 7 summers at an assortment of camps, including Camp Ramah in California, New England, and the Berkshires. He is thrilled to live in the one and only Ramah bayit with his fellow Fellows. Eli enjoys taking photographs, eating good food, and traveling to exciting places. Contact Eli at eli@campramah.org.
Darrien was born in the suburbs of Detroit in Bloomfield Hills, Michigan. She recently graduated from the University of Michigan with a dual degree in psychology and French. She spent many summers as a camper and counselor at Camp Ramah in Canada. In her spare time, Darrien enjoys reading, painting, yoga, and playing guitar. Contact Darrien at darrien@campramah.org.
You can read more about the Ramah fellows and other Tikkun Olam initiatives in Detroit here.