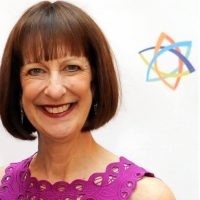 My Journey from Tikvah to Executive Director at Gateways: Access to Jewish Education
Arlene Remz | New England
Arlene is the Executive Director of Gateways: Access to Jewish Education, which provides special education services, expertise, and support to students with diverse learning needs.
It was summer of 1977 and the federal special education law, the precursor to IDEA (Individuals with Disabilities Education Act), had just been passed the previous year. Tikvah was still young (in its sixth year), with Herb and Barbara Greenberg at the helm, and I had just graduated college and was about to start a career in special education. I was thrilled to return to Ramah for my fourth summer, this time as a Tikvah counselor.
The Tikvah Program at Camp Ramah in New England was the beginning of the complete intertwining of my professional path in special education with my involvement in the Jewish community. My personal story also got tied in, as that summer I met fellow Tikvah counselor Sandy Remz, whom I later married.
My vision and understanding of how campers with disabilities could be included in Jewish life and community was forged that exhilarating summer. It was in large part to the support and inspiration from fellow counselors who were working in special education and related fields, and from Herb and Barbara, who were trailblazers and extraordinary mentors.
I went on to become a special education teacher, first in Massachusetts and then in New York. Upon moving back to Massachusetts, I worked in special education research and curriculum development for 15 years. At the same time, my personal life revolved around the Jewish community. I was an active lay leader in several Jewish organizations, eventually serving as president of Solomon Schechter Day School of Greater Boston.
About 15 years ago, my special education and Jewish paths merged again. I became the executive director of a small grassroots non-profit called Etgar L'Noar, a Hebrew school and b'nei mitzvah program for students with disabilities. Three years later, I led the merger of Etgar L'Noar with another small non-profit, the Jewish Special Education Collaborative, to found Gateways: Access to Jewish Education.
Gateways is now the central agency for Jewish special education in the Greater Boston area, providing Jewish educational programs, supports, and services to students with a wide range of disabilities in day schools, congregational schools, preschools, as well as our own Jewish educational program. We also provide professional development expertise, resources and consultation to educators in Boston and beyond.
The lessons I learned and the vision I established all those years ago as a Tikvah counselor continue to inform my work at Gateways. Through the years, I have collaborated closely with Tikvah, talking frequently with Howard Blas, referring staff, campers, and volunteers, and sharing resources. Gateways teen volunteers are often Ramah campers and counselors with experiences as Bogrim Buddies, Machon Helpers or Madrichim b'Nivonim [Nivonim MiNis]. Conversely, many Gateways teen volunteers have become Tikvah counselors.
Back in the summer of 1977, I could never have imagined that 40 years later my experiences as a Tikvah counselor would have such a profound impact on my life—but they did!