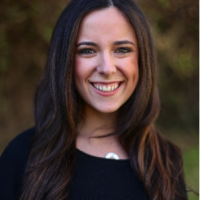 Jenna Roth | Nyack
Jenna is a proud member and Rosh Edah at Camp Ramah in Nyack. She grew up attending Solomon Schechter and is now a student at Muhlenberg College where she is studying Jewish Studies and Psychology. She is currently studying abroad at Hebrew University as a Nachshon Project Fellow where she is learning and growing her Jewish leadership and hopes to pursue a career as a Jewish professional.
As I pulled into my driveway with a packed car I felt a pit in my stomach. I saw my dog staring out the window, and heard his happy bark. I knew that my family was eagerly waiting for me inside and that I would be greeted with warm hugs and soon be in my own bed. Yet, the pit in my stomach remained. Actually, it was an emptiness. We all know that feeling. No matter what Ramah Camp you go to, we all take part in it. That dreaded feeling when camp is over.
How am I supposed to return back to normal life when I just spent two months in a community where I feel the most empowered? In a place where I am surrounded by a community that is eager to listen to your ideas and partners with you to make them a reality. Where every day we celebrate being Jewish and Israel, where I believe in what I am doing, and most of all- where I am my best self.
How do we replicate this when we are not at camp?
As I reflected on the summer I realized that as I was shaping others' Jewish values, I was also shaping my own. At Ramah Nyack we strive to teach our chanichim Jewish values that do not just last during the summer months but rather endure and become an integral part of who they are. I realized that this is the magic of Ramah–it follows you.
Although we may not always physically be in camp we can keep camp within us and it will follow us wherever we may go. Camp is where I realized who it is that I want to be. I could share the story of when I realized my potential. Or the moment that I committed myself to pursuing a career as a Jewish educator. I could share the story of the summers where I get to morph back into a five year old, the times that inspired me to be devoted to Jewish continuity, and the summers when I feel overcome with purpose.
However, the story doesn't end during the summer. Ramah follows you.
I am currently studying abroad in Israel at Hebrew University as a Nachshon Project Fellow for Jewish leaders who wish to pursue a career as Jewish professionals. As my experience here continues, I am guided by what Ramah has instilled within me. Although I am not within the confines of camp, I am sharing and teaching others the values that Ramah imbues, the silly and meaningful traditions that we have, how to make Jewish education intertwined within one's daily life, and why all of this is important. Although it is hard to replicate the feeling we have when we are at camp, Ramah prepares you to lead a Jewish life and carry these lessons with you even when you are across the world. And that is because no matter how far and wide your path may lead, Ramah follows you.
Ramah is not just for the summer. It's for life.