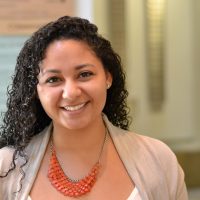 Continuing Camp During The Year
Danielle Natelson | California
Danielle Natelson is the Director of Jewish Learning and Leadership in her fifth year at Hillel at UCLA and member of the inaugural cohort of the Ezra Fellowship. She is also a proud Ramah California alum, having been a chanicha and on tzevet for 7 summers as a madricha and Rosh Cultural Arts.
There was always something so inspiring to me about the way in which Judaism seemed to effortlessly flow through every facet of camp life. From the minute you arrive to a swarm of welcoming faces at 385 Fairview to the moment you hear the sounds of Kolot Ramah on departure day, starting every morning at kimah and through the closing rituals of harga'ah there is nothing in space or time at camp that Judaism doesn't touch. As a chanicha at Camp Ramah in Ojai it seemed almost magical how it happened, especially juxtaposed to the day school environment I grew up in which at best can only capture that spirit from 8-3 on Monday-Friday. I couldn't wait to step into the role of madricha and take on the prestigious role of what felt like magician, creating that magic for others the way it had been done for me. Even in my time on tzevet, I attributed my success largely to that of the controlled environment that is the campgrounds during the summer.   The classic "It only works at camp" or "It's not the same outside of camp" mantra was a familiar one. Until I started working for Hillel, and then the secret became clear. While there is definitely something powerful and unique about the camp environment, what makes the successful thread of Judaism present at every corner is the experiential educational model that is implored by tzevet across camp that makes the magic possible.   It's the mutual buy in that all tzevet have in the core mission of creating an immersive environment that is conducive to learning, identity development, and community cultivation. It's the idea that every chanich and chanicha is at the center of what we do and is the subject for whom we create, holding with care and consciousness their individual interests, needs, and journeys. That framework is the real secret sauce behind the magic of camp, and that framework is transferrable outside the confines of camp itself.
As an alum of the Ezra Fellowship's inaugural cohort, I was able to build on my natural instincts and pre-existing successes as a camp person and develop language and tools to deeply engage students on my campus at UCLA. A marriage of the best that Relationship Based Engagement and Jewish Education have to offer, the Ezra Fellowship enables Hillel professionals to recognize the ever present opportunities for Jewish meaning and learning and relevantly bring them to life for students based on their individual journeys. Similar to the dynamic of an edah tzevet, the cohort experience of the Ezra Fellowship positions professionals within a network of supportive, committed peers who share a mutual passion for their work and vision for success despite being on diverse campuses, creating a braintrust and a bond that runs deep. As an Ezra Fellow I've had the opportunity to participate in deep Jewish learning partner organizations and scholars, immersive learning and skills development retreats, and cutting edge professional advancement opportunities. It's been an honor and a privilege to work for Hillel over the past 5 years, and being an Ezra Fellow has been a defining feature of that journey for me thus far.
There were times when I wished camp life continued year round. And as an Ezra Fellow and Hillel professional, it has in some of the best ways possible.
Ready to join me? Visit www.hillel.org/fellowships to learn more!