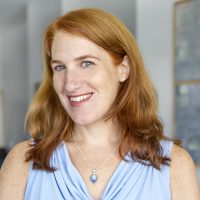 Rachel Mann | Berkshires
Rachel Mann is a writer who lives in NYC. Her novel set in a Jewish sleep-away camp, On Blackberry Hill, is available now on Amazon. For more information, please visit rachelmannwriter.com.
Recently, I wrote a piece for the Forward called  "Running on Camp Time." I discussed how, at Ramah Berkshires, camp had its own private time zone. Staff and campers set their watches back an hour, so that Shabbat ended at a reasonable time in the summer for small campers. But, as I explain in the piece:
"Camp time" always had another meaning for me: it's the strange time-bending phenomenon that makes a few weeks feel like years, as can only occur in the summertime, at sleep-away camp. Deep friendships are forged, sagas unravel, and memories are stored away, all the in the space of a few weeks. During the rest of the year, a few weeks can pass by in a blink, with little to 'write home' about. But in camp, a person can grow up in a month, or two. A person can fall in love. A person can change, forever.
I decided to write a novel that takes place in a sleep-away camp, because for me, camp is infused with the possibility of change and self-discovery. That novel, On Blackberry Hill, takes place over two summers at the same Jewish camp, twenty years apart. In alternating narratives, a fourteen-year-old girl, and her mother, at age nineteen, each have unexpectedly magical summers. The story is fictional, but the place, I admit, may be a touch recognizable to those who know Ramah Berkshires, where I spent ten summers.
Camp was really important to my parents, especially my father, who, in his own alumni reflection, admits that he decided his kids would go to Ramah before we were even born. My first summer at Ramah Berkshires was in 1984, when I was a "first-year-Nitzy." My brother Ben was two years ahead of me, so he was in Shorashim that summer. My brother Jeremy would follow behind me two years later, and my sister Yona later still.
Camp wasn't easy when I was little. And I was little: nine years old, attending for a full eight weeks (my family didn't mess around with one-session enrollments). I still had a lot of growing up to do, and I did a lot of that growing up in camp. It was hard to be away from my parents for so long. But it was also revelatory: I learned I could take care of myself. I remember the joy of the simplest peulot erev: capture the flag, or a sing-off. I remember the peace of Kabbalat Shabbat, and the thrill and exhaustion of Yom Sport. And I remember being shocked by the enormity of the night sky, on an edah sleep-out in a field. Over the years, I developed cherished friendships with people whom I was certain knew me better than anyone.
During staff week of my second summer on staff, in a game of Win, Lose, or Draw, I met an arts and crafts counselor who had come to Ramah that summer because his cousin had gotten him a last-minute job. More than anything else that happened at camp, meeting Josh changed the course of my life, as we got married five years later, and now have three daughters, two of whom are campers at Ramah Berkshires (and the third at Ramah Nyack).
Just like I did, our daughters are now having the chance to grow up and become their own selves, during their summers away at Ramah Berkshires. As a parent, I have my own camp days to fall back on when I get too tempted to spy on them through the online pictures, which are part of the contemporary parent experience. My daughter Ruby taught me a funny lesson about that, which I wrote about recently in Kveller.
Camp Ramah has touched my family across generations, just as it touches the fictional generations in my novel. There are few places in the world that hold just that kind of magic.