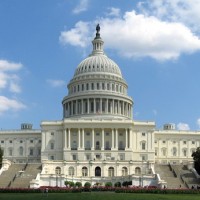 Ramah Makes History in Washington, D.C.
Dear Friends of Ramah,
What happens when a group of Ramah alumni gather at the end of the day on the floor of the U.S. House of Representatives? Why, they sing "Rad Hayom," of course! ("Rad Hayom" is the Hebrew version of "Day Is Done," also known as "Taps.")
Thanks to the efforts of Ramah Poconos alumnus and Ramah Darom parent, Rep. Ted Deutch (D-FL), Reshet Ramah sponsored a nighttime tour of the U.S. Capitol for dozens of alumni attending this year's AIPAC conference in Washington, D.C. Congressman Deutch inspired the group with a discussion of his years in Congress and of the profound influence of Ramah.
I attribute my growth as a leader to my experiences at Camp Ramah, where I learned to raise my voice and to stand up and be proud of who I am. -Congressman Deutch
Those who participated in the tour were deeply moved. "Sunday night was the most amazing experience I have had as a Ramah alum," said former Poconos camper and board chair, David Haas. "Last Thursday, I received an email from Reshet Ramah inviting Ramah alumni who would be attending the AIPAC conference to a special private tour of the Capitol hosted by Congressman Ted Deutch from South Florida. He described his experiences as a congressman and told some great stories. But the evening was capped off by Ramah alumni doing something that was never done before in the history of the U.S. Capitol.
At 11:30 p.m., on the floor of the U.S. House of Representatives, we stood, and with arms linked we sang 'Rad Hayom.' Unbelievable!"
Congressman Deutch told the group, "There isn't much that hasn't happened on the House floor, but I am certain that this is a first!" Jason Graf, a Ramah Canada alumnus, said "Singing 'Rad Hayom' on the House floor is a moment I will never forget, and one that reminded me how lucky I am to be part of a special community." That sentiment was shared by Ramah Darom alumna Julia Lustig, who said, "Being able to look around and feel the bond of everyone in the room is a feeling that is indescribable and one that I will always remember."
We are proud of the Ramah alumni who show their dedication to Israel in many different ways and are thrilled that so many wanted to make the Reshet Ramah Reunion Capitol Tour a part of their time at AIPAC. As we expand our Reshet Ramah activities, it becomes so clear that the Ramah experience extends well beyond the summer, spans the generations, and can be found not only in camp, but also in homes, synagogues, boardrooms, businesses, communal affairs — and even in the U.S. House of Representatives.
Kol Tuv,
Rich Moline, Director
Reshet Ramah