Upcoming Events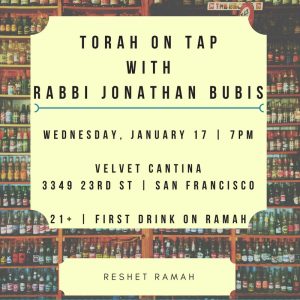 Join Ramah in the Bay Area for the first Torah on Tap event for alumni and Friends of Ramah! We will be learning with Rabbi Jonathan Bubis at Velvet Cantina located at 3349 23rd St, San Francisco, CA.
There is no cost to attend, but please register here. First drink is on Ramah! Must be 21+ to join.
Any questions or comments can be directed to Ari Friedman at arif@ramahnorcal.org.
Coordinator
Ari Friedman | Northern California
Ari grew up in New York attending Camp Ramah in the Berkshires as a camper, and Ramah Day Camp in Nyack as a camper and staff member. Recently Ari began spending his summers at Ramah Galim in Northern California as a lifeguard. After two summers with Galim, he moved to the Bay Area to work with Ramah Galim throughout the year. He is excited to meet all of the Ramah alumni in the area! Ari can be contacted at arif@ramahnorcal.org.