When someone brings up the word "camp,"  your mind jumps straight to Ramah. You can't help but feel a smile growing on your face as you remember the feeling in the air before the first Shabbat, the first Israeli friend you ever made, when you were named Yom Sport Captain. You might be older now, and those camp days seem like so long ago. Yet, you know that nothing is better than being with your Ramah friends, doing the things that make you happiest.
At Reshet Ramah, our mission is to partner with our thousands of Ramah alumni around the world and facilitate meaningful educational, spiritual, and Israel-based opportunities. Whether you're looking for a kosher cooking class, volunteer opportunities, or even a place to have a Shabbat meal, Reshet Ramah is here for you!
With generous grants from The AVI CHAI Foundation and the Maimonides Fund, Reshet Ramah was created to better serve the needs of our alumni community. It is our hope that Ramah does not only hold a special place in your past, but a place in your present and future. Partner with us in making your Ramah dreams a reality.
Our Team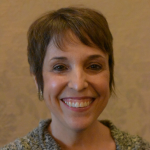 Amy Skopp Cooper, National Associate Director
Amy Skopp Cooper has served as the associate director of the National Ramah Commission since 2004 and in 2017 became the executive director of the Ramah Day Camp in Nyack, NY, after serving twenty years as the camp director.
Previously, she served as the education director of Congregation B'nai Israel in Millburn, NJ, and as assistant director of the Prozdor high school program at Hebrew College in Boston. A graduate of Hebrew University in Jerusalem, Ms. Cooper holds degrees in Jewish history and Jewish education. She received her master's degree from Brandeis University in Jewish education and communal service. Ms. Cooper is a recipient of the 2011 Covenant Award for outstanding Jewish educators.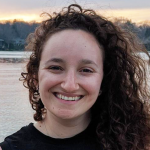 Ariel Goodman, Program Director
Ariel Goodman is originally from Evanston, IL and currently lives in Chicago. She is a proud alum of Ramah Wisconsin and attended as both a camper and a staff member. Ariel holds a bachelor's degree in English Literature from Washington University in St. Louis. Before joining the National Ramah team in early 2018, Ariel completed the AVODAH Jewish Service Corps in Washington DC and spent time working in both homeless services and education. She loves being able to help alumni engage with Ramah at every stage of their lives and create meaningful programming on college campuses, in synagogues, and in cities across the US and Canada.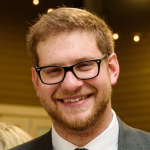 Jared Skoff, Program Director
Jared Skoff is the Program Director of the National Ramah Commission, directing year-round leadership and training programs for counselors and rashei edah. He began his time at NRC as a Ramah Davidson Fellow in Metro Detroit, and has worked on the summer staff of Ramah Canada, Wisconsin, and California. Originally from Cleveland, Ohio, Jared currently attends the Ziegler School of Rabbinic Studies in Los Angeles, where he studies as a Wexner Graduate Fellow, and maintains a deli-themed Instagram.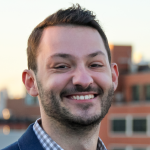 Erez Davids, Creative Manager
Erez is the creative manager at the National Ramah Commission. Erez worked at Camp Ramah in Nyack for many summers, as a madrich, rosh keif and as a rosh edah. Originally from Westchester, Erez graduated from Binghamton University with a degree in graphic design and a minor in Israel studies and now lives in New York City.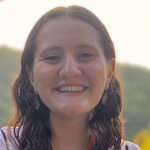 Adina Scheinberg, National Program Associate
Adina Scheinberg is thrilled to join the National Ramah team as a Program Associate. Since age 9, she has spent her summers at Ramah, attending Ramah Nyack and Berkshires as a camper, going on Ramah Seminar, and working as a counselor and Rosh Edah at Ramah Berkshires. Adina received her B.A. from Brandeis University in May 2021, where she majored in American Studies and minored in Legal Studies, Near Eastern & Judaic Studies, and History. On campus, she served on the Brandeis Hillel Student Board, was active in multiple interfaith groups, and was a peer advisor at the Hiatt Career Center and at Academic Services. Adina is excited to create programming for Ramah alumni that connects them to the magic of camp beyond the summer months.