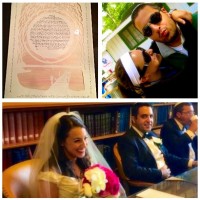 Sahar Zada & Audrey (Addie) Gellman-Chomsky
Having started at Ramah as a staff brat, I had always dreamily thought of one day ending up in a Ramah marriage, but never realized it would be with a member of mishlachat!  Lo and behold, in the summer of 2010, I met Sahar while we were both living with Nivo, and inconveniently fell in love with him.  After a tearful goodbye at the end of the summer he planned a visit to Boston, which led to me studying abroad for spring semester at Hebrew University.  While there, I was able to start a budding career, which led me back to Israel in 2012 for graduate school and employment in Holocaust Studies at the University of Haifa.  Sahar conveniently started the same year at the Technion, and it was only a matter or time before we got engaged.

Without Ramah, we would have never met, but my Ramah upbringing also gave me the tools to follow my heart to Israel and build a life for myself with the man I love.  Sahar grew up in a Persian home in Jerusalem, and I grew up the daughter of an Ashkenazi Cantor in Columbus, Ohio – our Judaism and Zionism was about all we had in common when we met, and we'll always be grateful for the foundation Ramah gave us.

The Maid of Honor at our wedding was my best friend Natalie Eisen, whom I met my Shoafim summer in 2003.  For our wedding, she gave us a beautiful pair of Shabbat candle sticks with a card that read:
"I also felt it was only right to incorporate camp into the gift, since both Addie and I and the two of you met in that magical place.  I have made a donation to Ramah in your honor, so that more kids will have the  opportunity to attend camp and find their future best friends and spouses, or at the very least come out of it with a great first kiss story."

We also felt the need to incorporate Ramah into our wedding, and so our ketubah featured a paper-cut silhouette of the waterfront.

As we start our life together in Israel, we will always be grateful to Ramah for bringing us to one another.  Wherever we end up building our family, we know that our children will spend their summers at Camp Ramah.