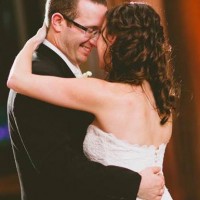 Josh Gajer & Elana (Lonni) Romirowsky Gajer
Lonni Romirowsky attended Camp Ramah in the Poconos for almost 15 years. Before being able to stay in a tzrif, she was a "staff brat" in the gan, attended Camp Ramah as a camper for six years, served on staff for two years, and was a counselor for Ramah Poland-Israel Seminar.
Josh Gajer attended Camp Ramah in the Berkshires for five summers as a camper, went on Ramah Seminar and then worked at Berkshires for three summers as a counselor.
Lonni and Josh met in New York City and were introduced by a mutual friend who also attended Camp Ramah in the Berkshires.
While they attended two separate Ramah camps, they are both committed to and have a strong love for Camp Ramah. It was only a matter of time before they met and bonded over their shared love for Machaneh Ramah!