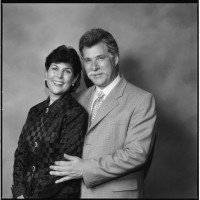 Alan Levine & Barbara Portnoy Levine
We were both campers at New England for many years (starting at the camp in Moodus) and met in 1968. Alan was a waterfront counselor and I was the Omanut counselor along with Roz Arzt (whose husband Ray was the director for many years).
I was 17, on my way to college (Pratt) and Alan was 20, in between his sophomore and junior years at Brown. We returned to camp as counselors together in 1969 and we married three years later. We have three children, a daughter Alissa and a son Dana Ari, twins who are 26 and went to Palmer as campers for about six years each including Israel. Our youngest, Andrea, is a 10th grader and has been to camp for five years so far, LOVES it, and will be back this summer as a Nivonim camper. We hope that someday our family will be a third-generation Ramah family.