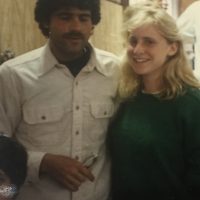 Joshua Skoff & Ilana Hoffer Skoff
We had each been campers and staff at different Ramah camps for years, as had our siblings. We had each been in Washington, DC in 1983, going to the same shul, at different times of the year, and not met. We had actually both worked at Ramah Poconos in 1984, and not met!
In the summer of 1985, we met during staff week and fell in love before the campers arrived. We were introduced by our mutual good friend Rebecca Davidowitz Kaplan. We were engaged during camp, actually a month after we had met, and married six months later. We have two children, Jared, born 1993, and Eden, born 1994. After living in Los Angeles, Jerusalem, and Manhattan for school, we have been living in Cleveland, Ohio since 1990. We have registered in this directory in honor of our 25th anniversary. Last year we visited camp with our kids in honor of the 25th anniversary of our meeting.