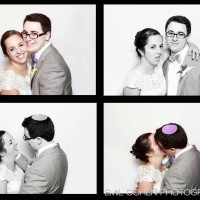 Shuki Cohen-Cirlin & Lucy Cohen-Cirlin
Met: 2005 Married: 2013 Camp Attended: Berkshires, California, Nyack, Israel Programs
(Shuki and Lucy's ystory appeared in "Summer Camp, Meet Online Dating" by Hannah Dreyfus, Jewish Week)
We met on Seminar in 2005. Lucy had moved to New York two years prior and her next door neighbor, who went to camp with Shuki, introduced us on the second night of Seminar.
We had our first kiss the following fall on Simchat Torah, when we met up to go shul-hopping with our camp friends and new buds from Seminar. We've been together ever since!
Lucy's parents, Joan and Martin, are also a Ramah marriage, they met at Ramah Canada in the 1970s.