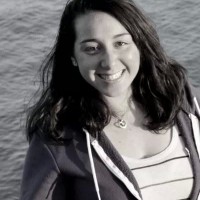 Stefanie Groner's Reflection
Ramah Nyack has a tradition I term "sentimental popcorn." On the last Shabbat of the summer, staff members pop up around the room and share meaningful moments and defining memories. It was the end of Kayitz 2013, and I hadn't thought of something to say in advance – the summer had been a blur of 1100 hungry mouths a day, eating dozens of daily pounds of macaroni, going through countless ketchup packets, and stacking a never-ending pile of dishes with more than 75 amazing CITs. So, when I spoke, I spoke on a whim, and from the heart. I explained that at a transition point between college and the real world, I had chosen a path away from "professional Judaism" as a corporate consultant, but still, nowhere had made more sense for my summer than coming back to Camp Ramah after a two-year hiatus. To bridge the stages of my life, I spent my summer comfortably nestled by the Hudson River, listening to children laughing, taking Shabbos naps, and praying for such happiness and community to stay present in my next stage of life. In the chaos of everyday camp life, I found summer-long peace.
Two weeks later, I landed in Israel, for the second time in my 22 years on this planet. I came from Germany where I had been in an intensive 12-day fellowship, Germany Close Up, discussing a dark history and confronting my family's past. When I arrived at Ben Gurion, it was close to 4 a.m. I was exhausted and alone. I picked up a cab, and using camp Hebrew, was able to give the driver enough direction to get me to the Peleg household in Ra'anana. Maya, my CIT, was waiting up for me at this unseemly hour to welcome me to the Holy Land. After spending the day with the Pelegs, I felt so comfortable, like I was right at home – Ramahniks have a way of making that space for one another. The next day, Maya had school, so I called on Rosh Edah Nevonim Rena Rosen who picked me up, luggage and all, and brought me to see her home, where I was given a full tour by her 4-year-old daughter Natalie. Within 24 hours, two Ramah homes had their doors flung open, welcoming me in a land far away from my Chicago apartment or our New York camp cabins. After a perfect lunch of shoko milk and cheesy borekas, Rena dropped me at the bus station, where I hopped on the bus and sped toward Jerusalem.
When I arrived in the Holy City, I had no phone and no sense of direction. I wandered my way across the city with my luggage, eventually deciding to walk to the school I would be attending, to find my roommate. I was worn and tired and looking forward to settling down.  As I walked down the streets of Talpiyot, hoping I was going the right direction, I couldn't have been happier when Rosh Edah Shorashim Dita Ribner turned the corner toward me. From city to city, the familiar Ramah faces popped up. In the halls at Pardes, I quickly bonded with Judy Gerstenblith from Palmer and Sam Hollander from Poconos over the endless possibilities of Jewish geography between us. I was in a classroom each morning, teaching our peers familiar Daber-program Hebrew words with Elyssa Hammerman from Ramah in the Rockies.
When I left Israel a month later, I had run into a total of 15 different Ramahniks across different corners in Israel. Mishlachat from summers past, my sister's bunkmate, my director's son – I kept colliding with the Ramah community that had been able to support me through the summer and would clearly continue to follow me across the earth.
I moved to Chicago in October and became close with a Ramah alum from Poconos, sharing in my struggle to find a new grown-up community that brings us everything we loved about our Ramah experiences. It's not so much of a struggle in the end because we're Ramahniks. We're always finding a way to each other, and the network is so extensive, we hardly have to look far. Just don't be afraid to call up your Solelim bunkmate's Seminar boyfriend's cousin's sister who happened to go to Ramah in Ojai. Chances are, you'll end up making some latkes together, talking about the time you won Maccabiah in '04, and between the smell of frying potato and the sounds of the oil popping, you'll start to feel the way that you thought you only could at camp. You'll feel an overpowering sense of home. That's the power of Ramah.