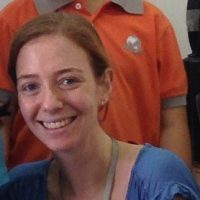 A Jewish Home In An Unlikely Place
Rena Forester | Wisconsin
Rena grew up in Deerfield, Illinois and graduated from Indiana University with degrees in elementary and special education.  After graduating, she decided to teach in Busan, South Korea.  After completing a job there, she spent some time traveling around Asia and parts of the U.S.A..  She then taught English in Mitzpe Ramon, Israel through the TALMA program.  Rena is currently teaching 3rd grade international students in Hanoi, Vietnam. 
Last night, I celebrated Shabbat with roughly 20 Jews from around the world in Hanoi, Vietnam.  Here, in Vietnam, there aren't many Jews, as you may expect.  We're fortunate, however, to have a wonderful Chabad House that is run by the very special Rabbi Levi and his wife Mushky.  Currently, however, they are back in the U.S., so Mushky's brother and his friend have been holding down the fort!
When I arrived to Chabad last night, I was welcomed by the comforting and familiar tunes of Kabalat Shabbat.  Though I enjoyed davening as a Ramah camper, as I've gotten older, I've felt less of a connection to davening.  However, now that I live in Hanoi, I find myself looking forward to hearing the familiar Kabalat Shabbat tunes.  Hearing Kabalat Shabbat at the Chabad House here in Hanoi often takes me right back to the Lower Kikar where I have fond memories of sitting with my siblings and watching the sun set over Lake Buckatabon, surrounded by hundreds of Ramahniks.
Following davening, all of the guests headed upstairs where we had a lovely 3-course Shabbat dinner complete with Kosher meat, right here in Hanoi!  As the crowd was small, each person was able to introduce himself and share a bit of his story.  Of the roughly 20 people in attendance, the majority were Israeli travelers who had recently completed their army service.  It's always awesome to be surrounded by Israeli travelers at Chabad; I jokingly told the Rabbi last week that coming to Chabad on Shabbat is like taking a free trip to Israel every week!  Last night, there was also a couple from Paris, France who were celebrating their honeymoon and a young man from Mexico City, Mexico who is on an around-the-world trip.  One of my friends from South Africa who also lives in Hanoi was there too.
Day-to-day life in Hanoi, a city of 8 million people who primarily drive motorbikes and speak a language that I don't, can get a bit crazy.  EveryThursday, I am reminded that Shabbat is coming, providing me with an opportunity to reground myself.  Each week I look forward to being surrounded by Jews from around the world as we come together to signify the passing of another week.  I am thankful to Ramah for helping to shape my identity as a Jew as it ultimately lead me to Chabad, my Jewish home in a foreign land.