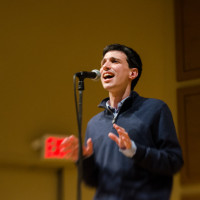 Reflections on "From Camp Ramah to Broadway," David Offit
This past Sunday night, April 19, Reshet Ramah sponsored "From Camp Ramah to Broadway," an evening of song and reflection featuring Ramah alumni, including Broadway stars Caissie Levy and Ben Platt. The event was held at The Jewish Theological Seminary (JTS) in New York City. David Offit, Camp Ramah in New England alumnus and current Ramah New England Program Director, reflects on his experience as a performer in this exciting event. To see David's performance, click here.
I'm still a little bit on cloud nine from Sunday night!
I shrieked with excitement when I first heard about the possibility of an event centered on Broadway stars and Ramah alumni Ben Platt and Caissie Levy, and that excitement mixed heavily with anxiety and nerves when I ultimately agreed to perform at the same event. I could hardly imagine what it would be like—singing in front of performing arts professionals, Ramah supporters, parents, campers, and fellow alumni. I looked forward to the evening with a fair amount of trepidation. (I've always been one who gets nervous before performances.)
My anxieties went away almost immediately as the doors opened in Feinberg Auditorium at JTS on Sunday night. Whereas I expected Ben and Caissie to be distant celebrities, I looked on as they reunited with their camp friends from Ramah California and Ramah Canada who were coming to watch them perform, just as I was doing. They welcomed and hugged old campers, counselors, bunk-mates—just like me. This wasn't just a musical theater showcase, it was a celebration of Ramah, of the performing arts, and the lasting impact that Ramah has had on generations of young Jews. The spirit of the night was truly celebratory, and I don't think anyone stopped smiling from beginning to end.
I can't decide what impacted me most about the event. On the one hand, I got to see a professional-level concert from real Broadway stars. In fact, I had paid to sit in the last row of the balcony and watch Caissie perform "I Dreamed a Dream" just two weeks earlier on Broadway; sitting in the front row and hearing the same song was truly incredible. And on top of it all, when she announced she'd be singing "I Dreamed a Dream" and then started with "Chalom Chalamti," I knew I wasn't just at a cabaret; I was at a souped-up, one-of-a-kind, peulat erev (evening activity).
But stellar performances alone weren't the only things that left me feeling so enthusiastic about the evening: I found myself re-connecting with performing arts in the same way I had at camp. Every summer, Ramah camps produce Hebrew language musicals—my last role at Ramah New England was as Moses in The Prince of Egypt. On Sunday night, after my rendition of "Go the Distance" from Disney's Hercules, I spoke with Rabbi Mitchell Cohen, National Ramah Director, Lee Michael Epstein, the Ramah Berkshires alum emceeing the evening, Caissie, and Ben about my own Ramah journey, and the part that camp plays had in it. I recalled that although I loved camp from day one, plays gave me an opportunity to be something more than just another camper in the edah (division), and allowed me to truly find the place where I could stand out at camp. I discussed openly how being in camp plays served as an entry point for me into the larger community.
Amazingly, I wasn't alone in how I felt. Ben and Caissie, along with Dylan Landau and Josh Ehrlich, two other alumni performers, all remarked at how performing at camp in a safe, supportive atmosphere, helped them not only become interested in the arts, but also develop confidence, self-esteem, and further connections with peers. On Sunday night, I felt surrounded by camp friends and community—the audience consisted largely of lifelong Ramahniks or parents of Ramahniks. And as much as I felt a part of that whole, I also used my passion and talents to distinguish myself as an individual.
The event also solidified the unbreakable connections between Ramahniks across age, camp affiliation, professional industry, or level of fame. We all have the same experiences, the same memories, the same passion towards Camp Ramah. In one of my favorite moments of the evening, Ben exclaimed that his proudest moment at camp wasn't starring in his production of Guys and Dolls, but winning Maccabiah (color war) as an Adom (red) team captain. He added that in any production he works on, he tries to cultivate the same level of camaraderie and teamwork that he felt on Adom.
In a larger sense, the evening exposed a previously unexplored outcome to the Ramah experience. As Mitch remarked at the top of the evening, we're very proud of the famous rabbis, cantors, and Jewish educators that Ramah has produced—but we've also jumpstarted more than a few success stories across all fields. I'm greatly looking forward to celebrating these successes in years to come.