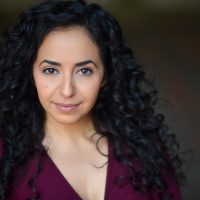 Ojai on Broadway: An Interview with Sharone Sayegh
Sharone Sayegh | California
Sharone is originating the role of Anna in The Band's Visit on Broadway. As an actor of Israeli/Iraqi descent, she is incredibly excited to bring this new Middle Eastern musical to life. Other Broadway: Mamma Mia!. Off-Broadway: Anna in The Band's Visit (Atlantic Theater Co, World Premiere), Title role in Scheherazade (Prospect Theater Co) and the world premiere of The Wildness (Ars Nova). Regional: Mrs. Jesus/Ens. in Escape to Margaritaville (La Jolla Playhouse, World Premiere), Maria Elena in Buddy: The Buddy Holly Story (The Muny), Aouda in Around the World in 80 Days (Florida Rep), Vidya in Disconnect (San Jose Rep, BACC Nom.). 
RR: When did you start performing?
SS: When I was in 2nd grade, all I wanted to do was copy my older sister, Hadar. Hadar started going to drama class after school, and in an effort to be as cool as her, I asked my mom if I could sign up too. I then enrolled in Drama class at the Roxbury Park community center, and because I signed up, my sister stopped going, ha! I loved it and have been hooked ever since! I did community theater all throughout elementary and middle school and also studied at the Youth Academy of Dramatic Arts (YADA) in LA, where I fell in love with theater, music, and dance. I then went to Beverly Hills High School where I performed in the drama department musicals, school choirs, and school dance company. I attended Syracuse University where I graduated with a BFA in Musical Theater.
RR: Did camp play a role in your career?
SS: In a sense, yes. I remember doing a Hebrew version of Little Shop of Horrors one summer at Camp Ramah, which was so fun. I also loved being a member of Kolot Ramah, the singing group at camp, and recording CDs with David Ross. Being in the recording studio with David Ross definitely help me prepare for studio singing in my professional career.
RR: What are some of your favorite memories of camp?
SS: I loved relaxing on the hill with friends while the afternoon sun would set. I loved being in nature without TV's, computers, phones, etc. I loved Shabbat at camp, getting dressed up for the wacky themed nights, writing Shabbat-o-grams, and singing outdoors with everyone.
RR: What was your reaction when you realized you would be on Broadway for the first time?
SS: I was filled with excitement and nervousness at the same time. I remember thinking "Wow, my lifelong dream is about to come true", I almost couldn't grasp the entirety of the idea at the time. When I bowed during the curtain call of my first night on Broadway, looking out in the audience, it hit me.
RR: What is your proudest moment in your career so far?
SS: Seeing my parent's beaming faces watching me onstage when they first came to see me in Mamma Mia! On Broadway.
RR: What are some of the challenges of performing on Broadway?
SS: One of the biggest challenges of performing on Broadway is just the actual schedule. Each show has a different schedule, but they all do 8 shows a week with one day off, which is challenging vocally, physically, and mentally. It's also a challenge to stay in touch with people who are on a "normal" 9-5 schedule, since our schedule is completely opposite. So attending big life events like weddings, birthdays, etc, tends to be a challenge because they are almost always on nights and weekends which is when you work on Broadway. Throughout the years I've made it work and in the end, it's all worth the amazing honor of being on Broadway.
RR: What is one piece of advice you'd like to share with other Ramahniks?
SS: Cherish and enjoy your time at camp! Indulge in the fact that you have no screens or electronics around you and really appreciate nature. It might sound cheesy, but you rarely get to go back to a time where you have no responsibilities besides coming up with a costume for color wars or decorating your bunk. I look back on my time at camp as such a fun, freeing, and loving part of my childhood.