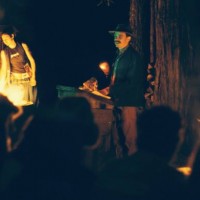 Levi Felix: "A guy who unplugged to reconnect"
In honor of the National Day of Unplugging, we're psyched to share this awesome story from JWeekly about Camp Ramah in California alumnus, Levi Felix, founder of Camp Grounded and Digital Detox, who credits his time at Ojai as a source of inspiration for creating a community that unplugs to connect. 
Felix says: I attended Camp Ramah throughout my childhood. It had a huge impact. Most of my staff and counselors at Camp Grounded are lifelong Tawongans, or parts of other Jewish communities, all coming together now to create a summer camp for adults. Digital Detox at its core comes from the idea of taking a [regular] break, which is inherently Jewish.

To read the full article by Alix Wall, click here.