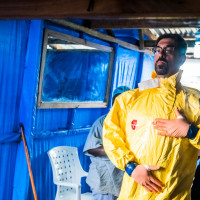 Dr. Steven Hatch: Saving Lives in Liberia
CNN covers a truly inspiring piece about Camp Ramah in New England alumnus, Dr. Steven Hatch, an infectious disease specialist working with Ebola patients in Liberia. Stay safe, Dr. Hatch, and on behalf of the entire Ramah community, we are so proud of your important and meaningful work!
Click here to watch CNN's video of Dr. Hatch's inspiring work.