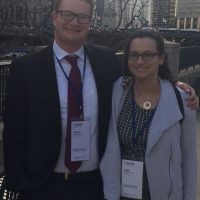 Leah Shapiro & Josh Aaronson | Camp Ramah Wisconsin
Leah Shapiro recently graduated from the University of Chicago with a degree in Comparative Human Development. Hailing from Minnetonka, MN, she currently lives in Chicago working full time as Debate it Forward's CEO. Leah went to camp every summer from Garinim through Nivo 2012. Josh Aaronson is a rising senior at the University of Chicago where he's studying Economics. Originally from Chicago, Josh plans on styaing after he graduates to keep working as the COO of Debate it Forward. Josh was a latecomer to camp, starting in Bogrim but staying through Nivo and even working on staff for 2 summers as a madrich.
You don't go to Ramah to find your business partner. Your friends, great memories, connection to your Jewish identity? Sure, but not your business partner. For us, however, that's exactly what happened.
Leah, a Ramanik from the first Garanim in 2006 at Ramah Wisconsin, introduced me to the Ramah experience when I started in Bogrim. In the same Eidah, we quickly became friends, but since we were from different cities (Leah is from Minneapolis while I am from Chicago), after Nivo in 2012, we mostly fell out of touch. I returned as a madrich in the summers of 2014 and 2015 while Leah worked as a coach at debate camps.
In fact, I didn't even know that Leah had started at the University of Chicago until I joined her there after my gap year. Just as Leah was able to show me around Ramah Wisconsin, when I was placed in the same dorm as Leah, she quickly introduced me to all of her friends and showed me the ropes. The Ramah connection, one that had lain dormant for three years, was quick and easy to rekindle and we became fast friends. It was this instant connection that perhaps inspired her to approach me with a business idea.
Leah had been driving in the car with her six-year-old cousin who was throwing a tantrum at the time. In an effort to restore sanity to everyone in the car, she turned to her cousin and said, "we're going to play debate, I'll say something and you have 10 seconds to prove me wrong." Her cousin was instantly captivated, and they played debate for over an hour with his older sister joining in.
Prompted by her experience, Leah came to me with the idea of increasing the accessibility of debate by using it as a tool for skill building as opposed to a competitive activity. In September of 2016, that idea came to fruition as Debate it Forward. A 501(c)(3) education non-profit, Debate it Forward uses its fun and non-competitive debate curriculum in order to increase the empathy, critical thinking skills, and self-confidence of young students. We work with elementary and middle school students, including specific populations that have been overlooked in certain ways: students from low-income backgrounds and students with learning differences. Seeing the organization grow from serving 20 students that first fall, to over 200 this spring, alone, has been incredible, and we're only growing from here. We're currently working on our first major expansion from University of Chicago to DePaul University this year.
We're so excited for what the future holds and can't thank Ramah enough for bringing us together as friends and now business partners.