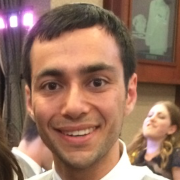 Benjy Forester | Wisconsin
Benjy Forester is a longtime Ramah Wisconsin veteran, most recently serving as Rosh Tikvah this past summer. After graduating WashU in St. Louis this past spring with a degree in Philosophy-Neuroscience-Psychology (PNP), Benjy headed off to Budapest, Hungary where he is serving in a yearlong fellowship with the Joint Distribution Committee's (JDC) young adult platform, JDC Entwine. In his role as a JDC-BBYO Jewish Service Corps fellow, Benjy gets to bring his years of experience in informal Jewish education from Ramah to Eastern Europe! You can follow his journey on his blog: benjywithawhy.blogspot.com.
I have been in Hungary for over a month now, transitioning into my new life here in Budapest! I was very pleased to meet numerous other Ramahniks at our Jewish Service Corps orientation, and we all connected about our eagerness to bring our Ramah experiences to our placements. Every year, our Ramah social media circles like to circulate articles about the benefits of working at summer camp instead of opting for those fancy internships. So far, I have enjoyed those many suggested benefits, including patience, creativity, and the ability to work well with others. (Todah Rabbah to camp's staff of yoatzim and educators!)
The Hungarian Jewish community is historic and quite interesting. The Jewish community is actually incredibly large, and there are many programs and institutions that address various needs of the community. The exact brand of Judaism that I grew up with at Ramah doesn't exist here, but my Ramah experience has energized me to explore the vast Jewish community of Budapest. I have prayed with the Masorti kehillah, in small steibel minyanim, and in beautiful Neolog (a Hungarian denomination) synagogues, eaten Shabbat and yomtov meals with various Jewish community members, and tried meeting as many people and hearing as many stories as possible. Ramah gave me wide eyes with which to explore the Jewish world and witness with great awe and respect how Jewish life and identity manifest in other places. I'm looking forward to the opportunity to continue to offer my Ramah skills and experiences to this community (spoiler alert: I will introduce Shabbat-o-Grams at our first convention in a few weeks), and to learn so much from this community about Jewish creativity, resilience, and passion that I can bring back to my communities in Chicago, Conover, and beyond.