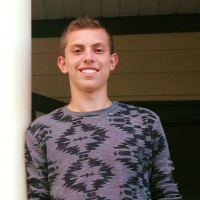 Jesse Parsons | Nyack
Jesse Parsons is a third year counselor in Tzeirim. He will begin studying at the University of Albany in the fall. He can be reached at jesseparsons13@gmail.com.
As a camp counselor, there is a general expectation that our kids learn from us over the summer. We guide our kids through each day, and help them learn, have fun, and overcome obstacles they may encounter. I have been a camp counselor for three summers, and it has taken me until now to realize that our campers are just as capable to teach us, as we are to teach them.
During staff week, a camper's mom came to speak with myself and my two co-counselors about her son who has special needs. After this conversation, I was nervous. I thought my co-counselors and I were going to have a difficult time getting him integrated into the rest of the bunk. I thought that it was going to be my fault if he did not have a good time in camp. After looking back on the summer we both had together, I was foolish to worry so much.
Needless to say, he had an amazing time. Every day, he came to the migrash with a smile from ear to ear, and simply, a happy demeanor to be in camp. We spent each day participating in activities together, singing in the chadar ochel, and just having fun. Not only was he a fun person to be around, he was also a part of the most powerful moment I have experienced as a counselor.
One day, we had basketball as an activity, and my bunk was playing knockout. He was sitting on the side, reluctant to play, but my co-counselors and I successfully encouraged him to participate. When it was his turn, he struggled to make the basket, but I noticed that one of my other campers was purposefully not getting him out. As he kept trying to make the basket, the rest of the bunk kept cheering him on. Progressively, the cheers turned to shouts, and the shouts turned to screams. When he made the basket, I got chills. My bunk went into delirium, chanting his name over and over, and I struggled to hold back my tears.
With everything that happens during a day in camp, it is easy to let certain moments go by without noticing. After he made that shot, I stepped aside and just admired the effect that he had on myself, my co-counselors, and the rest of the bunk. This moment I was lucky enough to experience, taught me that anyone is capable of changing someone's life. When I said goodbye to him on the last day, I was in tears, but it was a good thing because I knew the lessons he instilled in me will be everlasting.