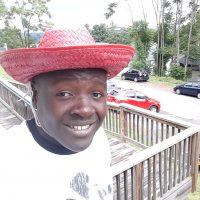 Isaac Wamani | Nyack
Isaac is the first son and the second of 12 children and is currently studying journalism at Kampala International University in Uganda. His two goals in life are to help other people either through philanthropy or social action and to be happy. His experience at the Ramah Day Camp in Nyack has truly changed his life by expanding his knowledge of Jewish life and giving him a second family.
I was born in Nasenyi, a small village in eastern Uganda, and I was raised and nurtured as a Jew. I belong to the Abayudaya Jews of Uganda. Unlike any other Jewish community around the world, the history of the Jews of Uganda has nothing to do with any ancestry link. During colonialism in 1917, a British collaborator was handed a Christian bible as a tool to convert Ugandans to Christianity. He read it and meditated on the Old Testament because it contained words from God. He continuously practiced Judaism according to the old testament by observing Shabbat, adhering to laws of kashrut, and circumcising himself and his male followers. My great grandparents were part of his followers. Therefore, I was born a Jew with 8 sisters and 3 brothers. I am the first boy and the second born. I am 22 and pursuing a bachelor's degree in mass communication at Kampala International University.
I was introduced to the Jewish camp experience last year when I attended a different camp in Wisconsin. This exposed me to new friends, cultures, and ways of life. Since then, my desire to attend camp continuously grew. Unfortunately, I couldn't be hired at my former camp for this summer. However, I did not give up finding another place to exchange Jewish experiences, have fun, and learn from others.
I tirelessly contacted many Facebook friends searching for a camp and eventually got through to my long time Ugandan friend who is currently living in Brooklyn. He found the Ramah Day Camp in Nyack and sent me contacts and links to the camp. I applied, was put in touch with Rabbi Ami Hersh, and ultimately hired as part of sports staff leading soccer and hockey. I feel blessed to be here, and I believe my family is proud of the what I am experiencing, because it's unique for someone to come from an African village to the United States. It's like going from zero to hero.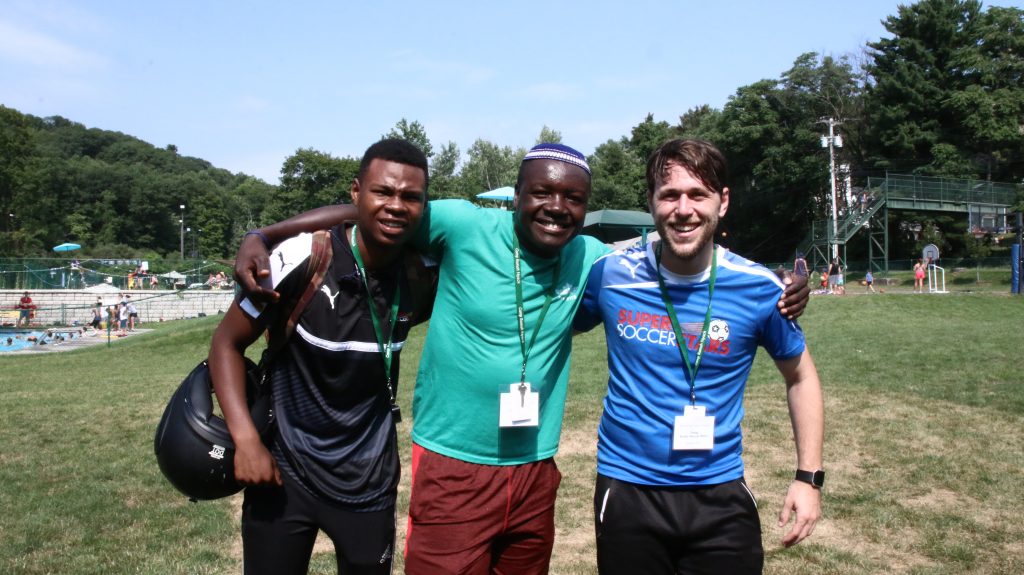 I have made many friends, both Israeli and American, and I feel completely part of the fun Ramah Day Camp in Nyack family. Camp is like the land from where love was born, a place where everyone is supportive and caring, regardless of age, status, or origin. This has been the only period of the year when I have found ultimate love and the highest level of self expression. Honestly, I never did this for a job. It was for the strong Jewish circle and the bond of camp. To confess, I fell in love with Ramah Day Camp in Nyack immidiately.
My Jewish spiritual journey isn't ending, rather it's continuing every day. When I turned 16, I longed to visit Israel, and even live there if possible. I consulted a few people and most of them were encouraging, but some people stated, "but Ugandan Jews are not recognized in Israel and globally." However, I did not turn back. In early 2016, I discovered that Ugandan Jews were officially recognized by Israel and eligible to make aliyah. This was the best news I had ever heard in my life. I began contacting the Jewish Agency in October 2016, and by December I had submitted all the necessary documents for the application.
I am currently waiting for approval. Although it is hard to wait for such an important decision, hopefully l'shana haba b'yerushalayim
Out of more a population of about 3,500, I am determined to emerge as the first Ugandan Jew to make aliyah to Israel.